Ariane's Blog
A place to explore, embrace & make change happen
Tuesday, May 27, 2008
Casting a Vision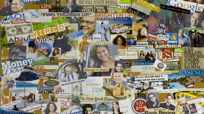 I hope everyone had a refreshing long weekend and took some time away from the voicemail, email and all the other things that divide your time during the busy week. The truth is, it's difficult to create any kind of vision for your life if you don't take the time to remember what's important in your life in the first place! What drives you? Where does your motivation come from? Who is your inspiration?
One way to let your mind wander creatively as you answer those questions (and then some) is to create a vision board. I talk about vision boards in the "Things I Love" section on the left. I have used these visual representations of things I'd like to attract into my life for years now, and I really like them! I recently spoke to Joyce Schwarz, creator if the Vision Board Book, which will be released this fall, and it was a great reminder of how powerful this tool can be.

You can use a pinboard, a wall, a whiteboard or any other surface you desire. It can be small enough to fit on your desk or large enough to take up a whole room. Cover it with words, photos, images, cutouts, sentences, logos, places and people that mean something to you, that symbolize something important you would like to do, have, give, experience, create, contribute to or manifest.

Vision boards are great fun—think of it as a collage of your deepest dreams and desires. Keep an eye out while reading magazines, books and papers for anything that inspires you, is something you'd like and brings positive emotion to you.
We created one for First30Days. It's a way for all of us to focus on why we are building this company and what our big goals are. We all have a sense of ownership, we add to it when we want to and it makes us happy when we look at it. There is a sense of excitement as many things have already happened since we created it a year ago—we've had incredible press coverage, friendly and helpful experts that have shared their wisdom with us or endorsed the book, and companies and sponsors working to align with us to make a difference in peoples lives.

I also have personal vision boards at home. You can have one for your health, your family, your money, your career, your relationship...anything that you want to focus on. Anyone from a teen to a grandparent can create them, and there is something mysterious about how what you place on the board starts being attracted into your life almost immediately.

Have you created a vision board for yourself? If so, please let us know about it! Share your story here...who knows what it might inspire in others?