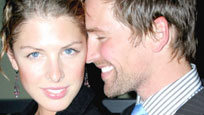 Improving Your Sex Life
| | |
| --- | --- |
| Get our very best tips about Improving Your Sex Life daily for 30 days. It's easy to sign up and will help you with this change. | |
Have Better Sex Now!
Within Maslow's Hierarchy of Needs, sex is on the same physiological level as food, water and sleep, yet sex frequently gets pushed to the bottom of the to-do list. And you're not alone—52% of Americans are unsatisfied with their sex lives, according to the Durex Global Sex Survey.

The good news is that your lackluster libido isn't a life sentence—better sex is just around the corner. During the first 30 days of improving your sex life, you can improve your satisfaction, your connection to your partner and your overall well-being. If you can change... Read more of "Have Better Sex Now!"»
30 Tips for 30 Days
Our very best advice for you!

Congratulations on taking first the first step to improving your sex life! Here is what you can expect to achieve over the next 30 days.
Shared by First30Days
More»
News
The latest news on this change — carefully culled from the world wide web by our change agents. They do the surfing, so you don't have to!
How NOT to spice up your sex life.
More»
Musical condoms coming to a sexual escapade near you.
More»