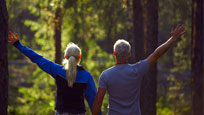 Your Empty Nest
| | |
| --- | --- |
| Get our very best tips about Your Empty Nest daily for 30 days. It's easy to sign up and will help you with this change. | |
Filling Your Empty Nest
Humorist Erma Bombeck once said that empty nest parents don't miss the work that goes along with being a parent, but rather "they're upset because they've gone from supervisor of a child's life to a spectator. It's like being the vice president of the United States." The day you become a spectator, you may feel it came too fast and far from ready to let your baby bird fly away into adulthood.

For some, the first 30 days of enjoying your empty nest can be an oxymoron. It's hard to celebrate when you're experiencing very real... Read more of "Filling Your Empty Nest"»
30 Tips for 30 Days
Our very best advice for you!

It's finally happening—your baby is moving out and leaving the nest.
Shared by First30Days
More»
If you have questions about this change, you're in the right place. Our editors, experts, and community of change optimists have answers!

I too thought that once they left home they would be ok and not return except on the holidays...
I went through the family albums and picked out my favorite...
Shared by Mosseo
More»