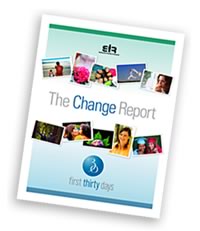 First30Days is committed to helping people through change and discovering everything that there is to know about it.
In partnership with one of the top research firms in the country, Southern Institute of Research, and Nancy Etcoff, a Harvard Medical School professor, we conducted an in-depth survey — The Change Report — to learn how people feel about change. We measured how people rank life events and found interesting conclusions about the characteristics that make someone succeed through a change and the traits, belief systems and actions that affect how people manage change. We examined how men and women handle change differently, and if and how age, religion, location, background and education are factors. And, of course, we also looked at the importance of the first 30 days.
We'd love to share our findings. If you are interested in receiving a free copy of The Change Report, fill-out the form below to download it.
---