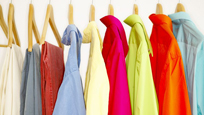 Changing Your Look
| | |
| --- | --- |
| Get our very best tips about Changing Your Look daily for 30 days. It's easy to sign up and will help you with this change. | |
Change Your Out-Look
Jason Seward*, a 29-year-old administrative assistant from New York, often used to throw on whatever was clean before going out. "Then, I would spend the whole night a little self-conscious about my hastily thrown-together outfit," he says.

Motivated by a significant weight loss to undergo a style change, Jason feels more confident today. "Now I know that I look, at the very least, presentable when I'm out in public," Jason says. "Looking better has also made me improve my posture. I make an effort to stand up straight when I walk and sit up in... Read more of "Change Your Out-Look"»
30 Tips for 30 Days
Our very best advice for you!

Congratulations on the decision to change your look.
Shared by First30Days
More»
If you have questions about this change, you're in the right place. Our editors, experts, and community of change optimists have answers!

I never believe that my husband and his family will accept me and my two kids... My name...
DO NOT SUFFER YOUR SELF FROM ANY BREAK DOWN,CURSE, SICKNESS...
Shared by Alexandria22
More»