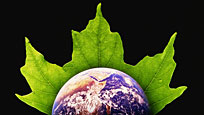 Going Green
| | |
| --- | --- |
| Get our very best tips about Going Green daily for 30 days. It's easy to sign up and will help you with this change. | |
The Many Shades of Green Living
With a gallon of gas costing as much as your morning latte, the idea of "going green" is turning heads as our decisions as consumers and citizens pile up around us. Where "going green"—a reference to the prominent color in nature—once meant an all-or-nothing proposition for which most or all choices were environmentally conscious, the modern definition is more fluid. A recent Yale University research study revealed a sea change in attitudes about our impact on the environment, with 83% of Americans citing global warming as a "serious" problem... Read more of "The Many Shades of Green Living"»
30 Tips for 30 Days
Our very best advice for you!

You've decided to paint your world green. Good for you!
Shared by First30Days
More»
If you have questions about this change, you're in the right place. Our editors, experts, and community of change optimists have answers!

I want to offer a bit of advice to anyone looking for help on how to get your Ex lover back...

Traditional kitty litter is a particular mineral that is mined...
Shared by osmodiar
More»