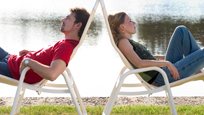 Breaking Up
| | |
| --- | --- |
| Get our very best tips about Breaking Up daily for 30 days. It's easy to sign up and will help you with this change. | |
Breaking Up is Hard to Do
The "it's not working" conversation just happened. Perhaps the conversation was one you initiated and your first feeling is relief. Maybe the breakup has left you totally devastated and barely able to function. No matter what the circumstances leading to the end of your relationship may be, you know it is an end and thus a loss.
The good news is that this pivotal life event signals a vast potential for growth and openness to a new form of love. While it may sometimes feel like you will never again be a whole, functioning human being, the opposite is true. The first... Read more of "Breaking Up is Hard to Do"»
30 Tips for 30 Days
Our very best advice for you!

Getting over any relationship is tough, but you've committed to moving on. Congrats!
Shared by First30Days
More»
News
The latest news on this change — carefully culled from the world wide web by our change agents. They do the surfing, so you don't have to!
You can get through the heartache.
More»
If you're staying with your other just because it's Christmas...
More»