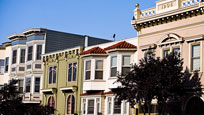 Moving to a New City
| | |
| --- | --- |
| Get our very best tips about Moving to a New City daily for 30 days. It's easy to sign up and will help you with this change. | |
Making the Move to a New City
You got the new job, your spouse or partner got a promotion or maybe you're just looking for fresh scenery. Congratulations! You're moving to a new city, and let's face it—this can be a daunting but exhilarating life change.
The first 30 days of moving to a new city really provide a chance for renewal. "Think of moving as a reset button for your life," says Laura Ramos, a life coach who helps clients through moves. "How often are we presented with an opportunity to truly start over and make everyday things in life feel new and fresh? Moving... Read more of "Making the Move to a New City"»
30 Tips for 30 Days
Our very best advice for you!

Congratulations on your decision to make a move.
Shared by First30Days
More»
If you have questions about this change, you're in the right place. Our editors, experts, and community of change optimists have answers!

Save Your Relationship and Get Your Ex Boyfriend/Girlfriend Back!contact: Unityspelltemple...
You can search the collaborative map of your new city to find...
Shared by hurstwagon
More»