My Other Books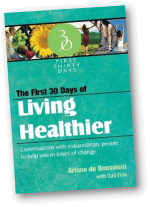 We interviewed over 50 health experts, and got their best advice. You will hear from experts such as Dr Andrew Weil, Walter Willett from Harvard, the Dalai Lama's personal physician, Brad Pitts' trainer, the world expert on healthy fats and oils, the authority on water etc. Also, we have stories of everyday people who have succeeded in making it through.
You will…
Learn what will make you succeed this time to lose weight, get fit, live healthier
Learn how to get focused again if you get off track
Learn why some people succeed and why some fail
Take action on your goals in the first critical weeks!
Learn about vitality and healthy aging advice
Learn about things that influence your health you may never have thought about
Understand why you are sick or tired or depressed
Get our list that we compiled from 50 experts on what their top suggestions are.
Know exactly how to start, what to do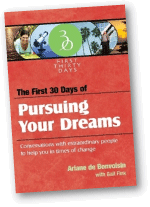 We interviewed over 50 experts on pursuing a dream. People like Po Bronson, author of What Should I Do With My Life, Martha Beck, author of Finding Your Own North Star, and Life coach for Oprah magazine and Rhonda Britten, host of the show Starting Over. We also went to find dozens of people who have found their dream and made it happen—people just like you. We asked them how they figured it out, how to start, how to get funding, mistakes to avoid, obstacles along the way, when is the right time. This is a wonderful book for you if you are thinking about making a career switch, or just want to find the courage and the way to pursue a dream you have, big or small. Its also a great gift for someone.