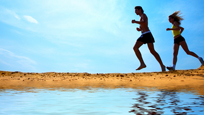 Getting in Shape
| | |
| --- | --- |
| Get our very best tips about Getting in Shape daily for 30 days. It's easy to sign up and will help you with this change. | |
Shaping Up Nicely
It's not about eliminating jelly belly or fitting into skinny jeans. In reality, getting in shape means priming your body to perform certain physical tasks with relative ease. Whether you want to run a marathon or simply play with your kids, your body needs physical conditioning to perform these activities.

According to the Mayo Clinic, regular aerobic exercise can lead to health benefits, including a stronger immune system and improved mood. One study published in the electronic Journal of Human Sexuality found that improved fitness may even lead to better sex... Read more of "Shaping Up Nicely"»
30 Tips for 30 Days
Our very best advice for you!

You've already taken the first step to getting in shape: deciding to do it.
Shared by First30Days
More»
News
The latest news on this change — carefully culled from the world wide web by our change agents. They do the surfing, so you don't have to!
Pedometer's will change your life…for the better.
More»
Some new things to try, and some to completely ignore.
More»