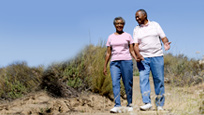 Managing Prostate Cancer
| | |
| --- | --- |
| Get our very best tips about Managing Prostate Cancer daily for 30 days. It's easy to sign up and will help you with this change. | |
Conquering Prostate Cancer
During your first 30 days after a diagnosis of prostate cancer you may feel vulnerable and frightened, and for good reason. You may have heard that prostate cancer is the second-most common cause of cancer death among men after lung cancer. However, deaths have declined by 30% in the last few years due largely to the fact that more prostate cancer treatment options are available.

Either a routine screening (advisable for men in their forties and older) or a doctor's visit for symptoms of prostate cancer alerted you to your condition. Your PSA–a measure of your body... Read more of "Conquering Prostate Cancer"»
30 Tips for 30 Days
Our very best advice for you!

Your biggest threat at this point is your own fear.
Shared by First30Days
More»
News
The latest news on this change — carefully culled from the world wide web by our change agents. They do the surfing, so you don't have to!
Cancer survivors have some heavy hitters in their corners.
More»
To do: Take out garbage, shovel the snow, check your prostate...
More»