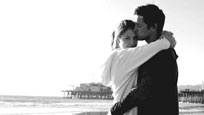 Proposing
| | |
| --- | --- |
| Get our very best tips about Proposing daily for 30 days. It's easy to sign up and will help you with this change. | |
Figuring Out How to Propose
It was nearly sunset when Joe Menicucci took a knee in front of a cabin at Chico Hot Springs Resort & Spa in the grassy mountains of Montana. With a ring box in his hand, his girlfriend Penny Citrola was elated that her boyfriend of a year was about to propose. As it was happening, Joe, a Bozeman, MT, native, realized that his proposal was working and said later, "I wanted to make sure Penny had the night she wanted."

After saying he loved her and wanted to spend the rest of his life with her, Joe asked Penny to marry him. She didn't respond, but gave... Read more of "Figuring Out How to Propose"»
30 Tips for 30 Days
Our very best advice for you!

Congratulations! You've decided to "take the plunge" and propose marriage to the love of your life. Though you might be feeling nervous, don't fret.
Shared by First30Days
More»
If you have questions about this change, you're in the right place. Our editors, experts, and community of change optimists have answers!

IT WORK 100%....I just got my Marriage fixed, I contacted a real spell caster that helped...
I want to let the world know about Doctor Padman the Great...
Shared by SynderAnderson
More»