Ariane's Blog
A place to explore, embrace & make change happen
Get my blog automatically - click here

Tuesday, May 20, 2008
The People That You Meet Each Day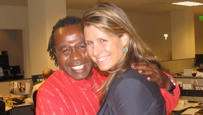 I'm now back in NYC for the long weekend and my birthday—a double shot of celebration! Hopefully, we'll get some sunshine.

While in San Francisco, I had a few funny rendezvous, of course. Do you recall the theme song from Mr. Rogers? He sings of the people in your neighborhood being "the people that you meet, when you're walking down the street...the people that you meet each day." Right now, the entire country is my neighborhood, and I'm meeting all kinds of "neighbors" I wouldn't otherwise have the pleasure to know.

I'm in the green room at an NBC station on Friday, getting ready to do the 12 o'clock news...and sitting next to me is Ben Vereen. A Tony Award-winning, Golden Globe and Emmy nominated triple threat, he is best known for his roles in the TV miniseries "Roots" and on the popular "Star Trek: The Next Generation" series as well as his starring roles in "All That Jazz" and "Jesus Christ, Superstar." Now, here is the (awful) truth: I didn't recognize him! I was concentrating on my own upcoming segment but we chatted, bonded, he asked for a copy of my book, made me laugh and feel more relaxed...I went on, then he did his segment. Half of his segment was about meeting me and liking my book! What a wonderful accolade.

Ben was in San Francisco to do a music show and had invited me to it. Unfortunately, I couldn't make it, but I did find out later that he promoted the book from the front of the stage to the entire audience! This is the moral of the story—you put something out in the world and then it has a life of its own! I'm looking forward to hearing more of Ben's story, and his life goals now. Even just spending a few moments together I learned that he has certainly experienced his fair share of change yet also radiates so much inner joy and peace that this is the type of man you just feel good being around. I know I've met a kindred spirit.

New day, new green room. This time it's an ABC studio and a foot away from me is a gorgeously built man. I see this Adonis from behind and wonder who he might be. It's none other than Mario Lopez (cue teenage "Saved By the Bell" fans screaming now.) Mario is currently starring on Broadway in "A Chorus Line" and has the lean and lithe body to show for it. He was on the show giving some workout tips from his new book, Knockout Fitness. Even more attractive than his fit body is his mega-watt smile. He just radiates! What a lovely man and a genuinely happy soul.

It's been fun never knowing who you might meet next. Live in a state of positive expectation about what new person, friend, lover, opportunity might come into your life. After the experiences of the past week, I can promise you'll be pleasantly surprised!