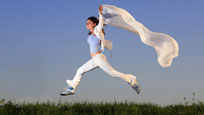 Pursuing Your Dreams
| | |
| --- | --- |
| Get our very best tips about Pursuing Your Dreams daily for 30 days. It's easy to sign up and will help you with this change. | |
Patricia Bonelli on Pursuing Your Dreams
Since some of our listening audience may not yet know who you are, would you please tell us a bit about yourself.
As a teenage runaway and prostitute, I spent a lot of time on the inside of a holding cell. As a professional woman, I elevated myself to the other side of that same cell, becoming a member of the criminal justice system. While employed in this capacity, I played by the rules; however, I always realized that the degrees of separation between me and the "suspects" (defendants) were minimal. I used my former experience as a person in survival mode on the street... Read more of "Patricia Bonelli on Pursuing Your Dreams"»
30 Tips for 30 Days
Our very best advice for you!

Don't be afraid to dream "big" as you embark on a new path.
Shared by First30Days
More»
News
The latest news on this change — carefully culled from the world wide web by our change agents. They do the surfing, so you don't have to!
Young children cook for the big events.
More»
Oscar water-cooler discussion is probably in a slump, too.
More»