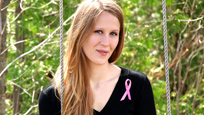 Managing Breast Cancer
| | |
| --- | --- |
| Get our very best tips about Managing Breast Cancer daily for 30 days. It's easy to sign up and will help you with this change. | |
Beating Breast Cancer
Getting a breast cancer diagnosis is both devastating and overwhelming. When you first hear those two words, you think your life is over. The world is still spinning, the doctor's mouth is moving, but you've slipped into a black hole, and have no idea what she's saying, where you are or if you're going to survive.

One in eight women will be affected by the disease in their lifetime. Breast cancer is common, but not unbeatable. Survival rates are climbing. According to a 2008 study in the journal Lancet Oncology, North America, Sweden, Japan, Finland and Australia... Read more of "Beating Breast Cancer "»
30 Tips for 30 Days
Our very best advice for you!

After the shock of being diagnosed has passed, know today's treatment options are helping women live longer and better lives than ever before.
Shared by First30Days
More»
If you have questions about this change, you're in the right place. Our editors, experts, and community of change optimists have answers!

Cannabis Oil Cures Cancer, there is a ton of proof out there...
Shared by spellsolution
More»