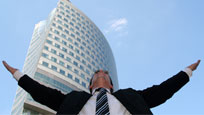 Finding Your Dream Job
| | |
| --- | --- |
| Get our very best tips about Finding Your Dream Job daily for 30 days. It's easy to sign up and will help you with this change. | |
Dream Jobs Do Come True
Two thousand eighty hours: That's the amount of time you'll spend at your full-time job this year. But if you're like many employees—working a job you barely tolerate just to earn a buck—these 2000-plus hours may feel like an eternity.
If money were no object, how would you spend these two thousand-plus hours? Would you seek out a more stimulating, more fulfilling livelihood?
According to a survey by the Conference Board, only 47% of Americans are satisfied with their jobs—the lowest rate in 20 years. That means the majority—more than... Read more of "Dream Jobs Do Come True"»
30 Tips for 30 Days
Our very best advice for you!

It's time to find your dream job!
Shared by First30Days
More»
If you have questions about this change, you're in the right place. Our editors, experts, and community of change optimists have answers!

TRUSTED LENDER (LEXIELOANCOMPANY@YAHOO.COM) My name is Michael Lee a citizen of Illinois...

A woman in Los Angeles has been wearing a Tshirt with her...
Shared by alegria
More»