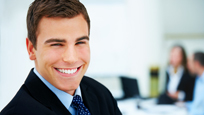 Starting a New Job
| | |
| --- | --- |
| Get our very best tips about Starting a New Job daily for 30 days. It's easy to sign up and will help you with this change. | |
Ensuring New Job Success
"I felt like I won the lottery," says Melissa Luckman, a New York City public-school teacher, after landing a new job as a guidance counselor. "I applied to more than 250 jobs and only got one interview prior to this one. The interview went well. I got a call the very same day, offering me the position."

Melissa's excitement came with a nervousness about starting something new and unknown. "I was jumping out of my skin. I didn't know what to do with myself. I was so excited," Melissa notes. "But I was also nervous that I... Read more of "Ensuring New Job Success"»
30 Tips for 30 Days
Our very best advice for you!

Get ready for your new job the right way.
Shared by First30Days
More»
If you have questions about this change, you're in the right place. Our editors, experts, and community of change optimists have answers!
Good Day, I'm Mr. Mason Diego. A reputable, legitimate...
Shared by diegoloans
More»