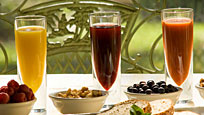 Living Healthier
| | |
| --- | --- |
| Get our very best tips about Living Healthier daily for 30 days. It's easy to sign up and will help you with this change. | |
Being a Healthier "You"
Making the change toward a healthier lifestyle might seem like an insurmountable task, and the first 30 days are definitely the hardest. Here's some good news: Once you decide to live healthier, you can do a lot to reverse the damage done to your body. If you remember nothing else after reading this, keep three things in mind: get moving, eat a balanced diet, and get some sleep! You'll feel healthier in no time.
Healthy Living: Mind and Attitude
"The truth is that if you want to live a long and fruitful... Read more of "Being a Healthier "You""»
30 Tips for 30 Days
Our very best advice for you!

The first step to healthy living is the drive to change ... and a water bottle, of course.
Shared by First30Days
More»
If you have questions about this change, you're in the right place. Our editors, experts, and community of change optimists have answers!

The Garcinia Cambogia extract will reduce your cravings, especially the craving for carbohydrates...

I have struggled off and on with my weight since I can remember...
Shared by kristen29
More»