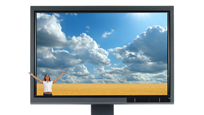 Understanding HDTV
| | |
| --- | --- |
| Get our very best tips about Understanding HDTV daily for 30 days. It's easy to sign up and will help you with this change. | |
Last Night, an HDTV Saved My Life
High-definition televisions (HDTVs) offer a breathtaking picture. Seeing an HDTV set display true HD content for the first time can literally change how you perceive reality. Just ask Hollywood-based TV producer Johnny Petillo, whose credits include high-octane reality shows "Deadliest Catch" and "Survivor." When he first saw a high-definition television, he knew he had to have one. "It was unreal," says Johnny. "If you haven't seen one, it's hard to explain." HD has even changed Johnny's viewing habits. "I find myself watching things I would never watch on SD. But, because it's in HD, I'm... Read more of "Last Night, an HDTV Saved My Life"»
30 Tips for 30 Days
Our very best advice for you!

You've decided to enter the high-definition world. Many things may have brought you to this point.
Shared by First30Days
More»
News
The latest news on this change — carefully culled from the world wide web by our change agents. They do the surfing, so you don't have to!
Here's a little tidbit of information.
More»
Toshiba is releasing a new DVD player that will sharpen the...
More»