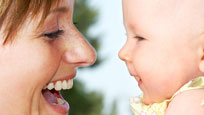 Being a New Mom
| | |
| --- | --- |
| Get our very best tips about Being a New Mom daily for 30 days. It's easy to sign up and will help you with this change. | |
Making It as a New Mom
Most new moms will agree that it's difficult to describe the emotions they feel when they hold their tiny bundles of joy in their arms. Of course happiness and awe are common feelings, but other emotions often come into play—unexpected feelings that range from confusion to self-doubt to anxiety.

The first 30 days of being a new mom comes complete with a roller coaster of emotions, steep learning curve and challenges of every kind. The excitement of a new baby is often mixed with exhaustion and tension, a phenomenon that can startle new moms. You may feel blissful... Read more of "Making It as a New Mom "»
30 Tips for 30 Days
Our very best advice for you!

Congratulations on your new bundle of joy! You're an amazing woman, whatever path brought you to this day.
Shared by First30Days
More»
If you have questions about this change, you're in the right place. Our editors, experts, and community of change optimists have answers!

Get Your Husband Back from Another Woman forever. Do not cry anymore dr.unity is a true...
I want to let the world know about Doctor Padman the Great...
Shared by SynderAnderson
More»