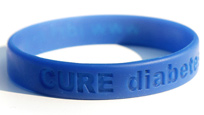 Managing Diabetes
| | |
| --- | --- |
| Get our very best tips about Managing Diabetes daily for 30 days. It's easy to sign up and will help you with this change. | |
Facing Down a Diabetes Diagnosis
We're not going to lie—the first 30 days of managing diabetes are going to be a confusing and stressful time. After all, you've just been diagnosed with a condition that you and 24 million other Americans will be managing for the rest of your life. But one thing that should put your mind at ease is that once you get the hang of it, the maintenance required to manage diabetes will feel like a piece of sugar-free angel-food cake—light and simple!
Diabetes: What Type Are You?

Your best tool to manage diabetes is your diabetes management team... Read more of "Facing Down a Diabetes Diagnosis"»
30 Tips for 30 Days
Our very best advice for you!

The first 30 days are key to helping you deal properly with diabetes.
Shared by First30Days
More»
News
The latest news on this change — carefully culled from the world wide web by our change agents. They do the surfing, so you don't have to!
Are you a follower of the cult of Wilford?
More»
Your momma always told you that you should eat your veggies...
More»