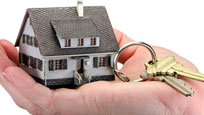 Buying a Home
| | |
| --- | --- |
| Get our very best tips about Buying a Home daily for 30 days. It's easy to sign up and will help you with this change. | |
Buying the Right Home for You
You've found a respectable Tudor in a picturesque neighborhood, with generously sized bedrooms, ample closet space and 2.5 baths. So why do you have a sense of unease—fear, even? After all, the right move can't feel wrong, can it?
When homeowner Kate Rodenhizer thought about buying a home—and all of the changes it would entail—she felt nervous. "When I'm staring a big change in the face, I definitely get overwhelmed and start panicking, just thinking about all the steps involved and how much upheaval there's going to be," she explains... Read more of "Buying the Right Home for You"»
30 Tips for 30 Days
Our very best advice for you!

Welcome to the exciting process of buying the home of your dreams!
Shared by First30Days
More»
News
The latest news on this change — carefully culled from the world wide web by our change agents. They do the surfing, so you don't have to!
There's no better time than now (really!) to buy a home.
More»
A potential solution for homebuyers.
More»