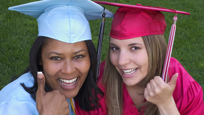 Graduating College
| | |
| --- | --- |
| Get our very best tips about Graduating College daily for 30 days. It's easy to sign up and will help you with this change. | |
There is Life After College Graduation
Ian Aman, a 2006 graduate of the University of San Diego, wasn't sure what he wanted to do after college graduation. His short-term plan was to work for two months as a camp counselor in Hawaii. Though that may not sound like an ambitious career, the experience was invaluable.
"I majored in education and quickly realized that teaching just wasn't for me," Ian says, of his summer experience. "I used the first 30 days after graduation to explore my options and see what I could do with my major beyond teaching."
Chances are you're feeling... Read more of "There is Life After College Graduation"»
30 Tips for 30 Days
Our very best advice for you!

Congratulations on your graduation! As you pack up the last of your things and say goodbye to the place you've called home for the last four years, remember that you are responsible for your academic success!
Shared by First30Days
More»
News
The latest news on this change — carefully culled from the world wide web by our change agents. They do the surfing, so you don't have to!
The Class of '09 has a tough road ahead.
More»
The 10 most popular college majors, and what grads will get...
More»