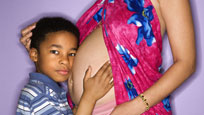 Being Pregnant
| | |
| --- | --- |
| Get our very best tips about Being Pregnant daily for 30 days. It's easy to sign up and will help you with this change. | |
Navigating Your Pregnancy
It's right there on the test; there's no denying it, you're pregnant—congratulations! For the next nine months (or less, depending on how far along you are) your body will be responsible for the growth of another human being. It's truly a miracle. For most women, pregnancy marks the beginning of the most profound life change they'll ever experience. So sit back, relax and get ready for the ride of your life!
Not only does pregnancy affect you physically, but mentally and emotionally as well. Your body is going through a huge transformation as your... Read more of "Navigating Your Pregnancy"»
30 Tips for 30 Days
Our very best advice for you!

Whether this pregnancy was planned or completely unexpected, your body and life will never be the same.
Shared by First30Days
More»
News
The latest news on this change — carefully culled from the world wide web by our change agents. They do the surfing, so you don't have to!
Would you select your child's genetic makeup?
More»
When the power goes out what else is there to do?
More»