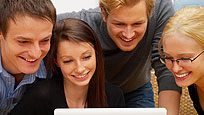 Using Facebook
| | |
| --- | --- |
| Get our very best tips about Using Facebook daily for 30 days. It's easy to sign up and will help you with this change. | |
The Internet's Freshest Face
First Friendster revolutionized the internet, then hi5 debuted, then this thing called MySpace erupted onto the social networking scene. But lately all you've been hearing about is Facebook.

Once the exclusive stomping ground of college and high school students, Facebook is now the hot topic around the corporate water cooler. In fact, many top CEOs and business recruiters are "friending" each other—making it hard for the kids who started Facebook to keep it to themselves.

Growing at an astounding rate, the popularity of Facebook has skyrocketed to 54 million... Read more of "The Internet's Freshest Face"»
30 Tips for 30 Days
Our very best advice for you!

Welcome to the First 30 Days of Using Facebook! You've decided to try the newest trend in online social networking. Today you—and about 249,999 others—will join the wonderful world of Facebook.
Shared by First30Days
More»
News
The latest news on this change — carefully culled from the world wide web by our change agents. They do the surfing, so you don't have to!
An artist proves obscenity is all about context.
More»
Friending presidents past and future on Facebook.
More»