The Year In Review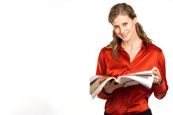 It's that time of year that everyone is making lists, talking about who's who and sizing up everything that happened in 2008. At the end of a year, your mind can also feed you some pretty tough questions about yourself.

Why didn't you lose the weight? Why did you not sell those stocks and get into cash? Why are you still single?

Whatever question is tormenting you, it's time to get your mind to focus on what really matters now. Remember, you get what you focus on.

Here are 10 questions to print out, answer and give some attention to. Get your friends and family to answer them as well. You will learn a lot about each other if you do.
What was the best thing that happened to me this year?
What did I do this year that I'm really proud of?
Who did I really help?
Who do I need to thank and acknowledge for having been there for me?
What are the top three lessons I learned?
What increased my happiness and joy this year?
What's something I got through that was really tough?
What did I avoid that I must pay more attention to in 2009?
What character trait did I develop most this year?
What new people did I meet that are now in my life?

Some of these questions may take some time and thought to answer, and that's OK. At the end you should be able to see that you've made some progress on at least one front in your life! Give yourself a bit of credit for that.
Posted: 12/30/08