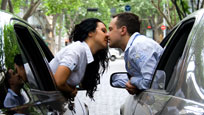 Finding Romance
| | |
| --- | --- |
| Get our very best tips about Finding Romance daily for 30 days. It's easy to sign up and will help you with this change. | |
Sparking Up a New Romance
Natalie West was terrified. There she was, sitting in a New York City coffee shop waiting for her date to arrive, and he was late. Nine minutes late, to be exact. And she had arrived five minutes early. That totaled 14 excruciating minutes of waiting, deciding whether she should go ahead and order (she didn't), wondering if this Jason character she met online was going to show (if not, how typical of her luck), wondering if he'd already come in, seen her and walked back out the door (if so, how embarrassing). The tension and fear roiled in her stomach. Maybe this online dating... Read more of "Sparking Up a New Romance "»
30 Tips for 30 Days
Our very best advice for you!

Welcome to the first 30 days of finding romance!
Shared by First30Days
More»
If you have questions about this change, you're in the right place. Our editors, experts, and community of change optimists have answers!

Save Your Marriage and Get Your Ex lover Back! Dr.Unity has helped thousands of women get...
Get your ex lover back urgently! Don't lose him! Dr.Unity...
Shared by Alexandria22
More»