The Change Guarantee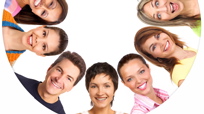 Has a change happened in your life that you are having trouble accepting? Is there a change you would like to make to help you love life more? If you answered yes to either of these questions, The First 30 Days: Your Guide to Any Change might be a book for you to read (or revisit) in the new year.
This year might have seen you fall in love, work hard at getting in shape, start (and lose) a new job or get divorced. Many of us went through multiple changes. Although we often try to ignore change, whether good or bad, it is the one constant. Which means we get to do it all again in 2009...
One thing to take heart in is this: Every change has a gift associated with it. People who successfully navigate change know that change always brings something positive into their lives. While it's natural to find change hard it's important to remember that there are two sides to every coin and that something positive will always come. This is also known as the Change Guarantee and is by far the most important belief to have during the first thirty days of change.

Click here for a special message from Ariane, and to listen to a free chapter from the book on The Change Guarantee. We hope it will help you and those you care about as you move through whatever changes 2009 brings!
Posted: 12/29/08