Make an Anti-Resolution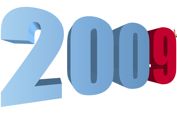 It's finally here. The last day of 2008, a year that's been—well, memorable. Let's just say, thank goodness for fresh starts!

Tonight's the night we're supposed to make resolutions about doing things better next year. We commit to all these giant changes, just because it's New Year's Eve, and then can't live up to them because—well, frankly, they're unrealistic. But for one night, anything is possible, right?

This New Year's Eve, don't set yourself up to fail. One or two small resolutions, like putting the cap on the toothpaste to save your marriage, might work. But for the most part, spend tonight reflecting on the positives of 2008. Hey, gas prices are down—that's a start. Think of everything that's happened to you personally over the past twelve months. Have you been through any major changes? Overcome any milestones? Sit down with friends or family members and toast the events or situations you're most grateful for.
Then, make an anti-resolution. Instead of joining a gym and losing 50 pounds by spring, say you'll add 10-15 minutes of walking per day to your current routine. Or that you won't eat after 7:00 p.m. Those are changes you just might be able to stick to and see results from over time! We've got tons of ideas on how to change positively in the new year.

It's up to you to make them your own!
Posted: 12/31/08