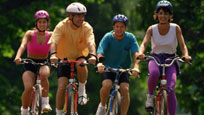 Losing Weight
| | |
| --- | --- |
| Get our very best tips about Losing Weight daily for 30 days. It's easy to sign up and will help you with this change. | |
Losing Weight for Good
Ann Donaghy* knew she was overweight after graduating college. "I realized I had a problem when I went to the doctor and she told me that I weighed 225 pounds," Ann says. "Even my 5'11" frame couldn't hide the weight." It was that moment when Ann realized something had to change.

According to national data, nearly 66% of all Americans (about 144 million of us) are overweight, nearly double the statistics of the 1980s. With a diet and exercise routine, Ann was able to lose 80 pounds over the course of a year, and you can too. Read more of "Losing Weight for Good"»
30 Tips for 30 Days
Our very best advice for you!

Congratulations on starting your weight loss journey!
Shared by First30Days
More»
If you have questions about this change, you're in the right place. Our editors, experts, and community of change optimists have answers!
If there is a diet you have chosen for yourself, no matter...
Shared by ToryPinky
More»

most manufactured carbs are made from white flour and corn...
Shared by myash3
More»
News
The latest news on this change — carefully culled from the world wide web by our change agents. They do the surfing, so you don't have to!
Do light versions of your favorite treats help you get lean?
More»
Seriously, who keeps making these up?
More»