Ariane's Blog
A place to explore, embrace & make change happen
Get my blog automatically - click here

It's that time of year that everyone is making lists, talking about who's who and sizing up everything that happened in 2008. At the end of a year, your mind can also feed you some pretty tough questions about yourself. Why didn't you lose...
Right now, I am in Boston for the Massachusetts Conference for Women. Tomorrow, I'll be leading a workshop on New Beginnings. It's the perfect time of the year for this theme! I think we all feel it's time for something new, something positive...
On Wednesday, the First30Days team had a group lunch and on our way back to the office, we bumped into New York City Mayor Michael Bloomberg outside our building...a fellow change optimist. He's made some good changes here in NYC and we were happy...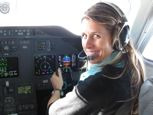 I was allowed to try piloting a private plane a few weeks ago. As you can see in the photo, I was still smiling, despite the seeming thousands of buttons and dials around me. When I sat down and put the headphones on, I pressed a button that said...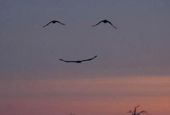 During this Thanksgiving weekend, we are very much focused on being grateful and giving thanks to those who have been there for us. A dear friend of mine, Doris, sent me the photo here this morning. What an incredible shot to capture on camera...
I am in Europe for the week—I went to London to meet my new godson Havana! What a gift he is. I'm now in Brussels where I was invited to speak live on Belgium's number one radio station, the RTBF, about First30Days. There's also a write up about...
One of my favorite radio show hosts, Dr. Alvin Jones, created an incredible program called On the Eve of Change in the days after the election. He interviewed a slew of personalities about the election, Obama's campaign and subsequent win. I...