Ariane's Blog
A place to explore, embrace & make change happen
Friday, November 28, 2008
A Smile From Above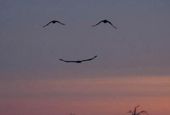 During this Thanksgiving weekend, we are very much focused on being grateful and giving thanks to those who have been there for us.

A dear friend of mine, Doris, sent me the photo here this morning. What an incredible shot to capture on camera!
It made me realize there really is always someone you can turn to, always someone smiling at you, always someone who believes in you and always someone who looks for the positive in you. Some of these people are not the obvious family and friends. Maybe its someone at a store you go to, someone you interact with briefly or a more distant acquaintance. Let them know you appreciate the wind they put in your sails.

Perhaps this shot is also a little reminder from life to smile more, take things less seriously and to strengthen our level of faith with everything going on in our lives and the world right now. Happy Thanksgiving. And I thank all of you for being part of the First30Days change movement.