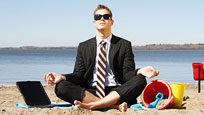 Meditating
| | |
| --- | --- |
| Get our very best tips about Meditating daily for 30 days. It's easy to sign up and will help you with this change. | |
Peace Through Meditation
In a world crammed with to-do lists, unread emails and incessantly ringing cell phones, it's no wonder that we're continually on the hunt for inner peace—or any peace for that matter. If you find yourself exhausted and disconnected, you're not alone. Many people are turning to a regular meditation practice to achieve a sense of calm and well-being. Meditation can give you the strength and balance to get through even the toughest days.

Meditation is an ancient practice, a way of focusing your mind in order to become more aware and to achieve a higher... Read more of "Peace Through Meditation"»
30 Tips for 30 Days
Our very best advice for you!

Meditation is an ancient way to create more calm and balance in your life.
Shared by First30Days
More»
If you have questions about this change, you're in the right place. Our editors, experts, and community of change optimists have answers!

After being in relationship with Wilson for seven years,he broke up with me, I did everything...
Take time to go within and reflect on the blessings and lessons...
Shared by Transformation
More»
Take a nature break with this animation from Central Park...
Shared by ChangeChamp
More»
News
The latest news on this change — carefully culled from the world wide web by our change agents. They do the surfing, so you don't have to!
For July 22-23's new-moon and solar-eclipse, here is a manifesting...
More»
Remember when the weekend actually meant something?
More»