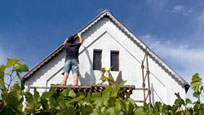 Creating a Green Home
| | |
| --- | --- |
| Get our very best tips about Creating a Green Home daily for 30 days. It's easy to sign up and will help you with this change. | |
Green Home, Happy Home
They say many good things start at home: habits, behavior and health. Add eco-friendly awareness to that list. Greening your immediate environment benefits both you and the world around you.

You might be thinking that a green home plan sounds like something you want to create, but aren't sure where to begin or if you can afford it. "I think for the first 30 days it's about quick fixes," says Kelli Ellis, celebrity designer and interior expert for TLC and HGTV.

Within the first 30 days of working on your green home, you can expect to start... Read more of "Green Home, Happy Home"»
30 Tips for 30 Days
Our very best advice for you!

Welcome to a greener, cleaner world.
Shared by First30Days
More»
If you have questions about this change, you're in the right place. Our editors, experts, and community of change optimists have answers!

your local electric company can have someone come out and check your house and see where...
Every year when spring rolls around and the weather warms...
Shared by PhilipWhite
More»

Hello Everyone! I Love Lemons~I drink a lot of Lemon water...
Shared by twobrowneyes
More»
News
The latest news on this change — carefully culled from the world wide web by our change agents. They do the surfing, so you don't have to!
If company's on the way, it's time for scrub-a-dub-dub.
More»
Find out what it means, and why, after the jump.
More»