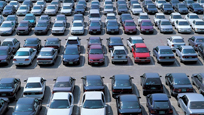 Buying a New Car
| | |
| --- | --- |
| Get our very best tips about Buying a New Car daily for 30 days. It's easy to sign up and will help you with this change. | |
The Fast Lane to Car Buying
After nearly 10 years of loyal service, Tom Ferriter's 1995 Ford Supercab suddenly died on a hot July day in Athens, GA. The mechanics told Tom it wasn't worth saving. The tragedy left him with some unexpected vacation days (good) and plenty of grim musings on the future (bad). "I thought I'd have to work from home, filling out [paid] surveys for focus groups," says Tom.

Tom was unaware of his credit score and short on confidence, but he knew he needed to buy a new car. He was understandably cautious. "I was really worried if I went to a... Read more of "The Fast Lane to Car Buying"»
30 Tips for 30 Days
Our very best advice for you!

The American way of life is tied to the automobile.
Shared by First30Days
More»
If you have questions about this change, you're in the right place. Our editors, experts, and community of change optimists have answers!

I've found simply using my cruise control more often has saved...
Shared by ToshiroMifune
More»

Your broker will get all comparable insurance rates for you...
Shared by Anonymous
More»
News
The latest news on this change — carefully culled from the world wide web by our change agents. They do the surfing, so you don't have to!
A Corvette is a Corvette is a Corvette.
More»
These days, living in your car might not be so bad.
More»