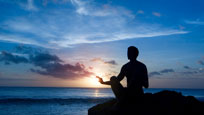 Living More Spiritually
| | |
| --- | --- |
| Get our very best tips about Living More Spiritually daily for 30 days. It's easy to sign up and will help you with this change. | |
Everyday Spirituality
Spirituality is a path you choose to take, a journey you embark upon with no set destination. In deciding to explore spiritual ways of living, you're committing to looking within and increasing your faith in life.

"Spirituality means, among other things, renouncing the belief that one has control over the course of one's entire life and learning to have a friendly attitude with the unknown or mysteries in our individual journey," says Desiree Marin, a life coach who helps people fulfill their spiritual goals.

There are countless ways... Read more of "Everyday Spirituality "»
30 Tips for 30 Days
Our very best advice for you!

Congratulations on deciding to explore your spirituality!
Shared by First30Days
More»
If you have questions about this change, you're in the right place. Our editors, experts, and community of change optimists have answers!

I want to offer a bit of advice to anyone looking for help on how to get your Ex lover back...

Count your blessing every day, and give thanks to God for...
Shared by vickycarino
More»