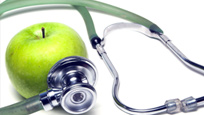 Managing Heart Disease
| | |
| --- | --- |
| Get our very best tips about Managing Heart Disease daily for 30 days. It's easy to sign up and will help you with this change. | |
Treating Heart Disease
We know that heart disease is a scary term—you've probably heard that it's the leading killer of men and women today—but you can survive it! Heart disease is an umbrella term most people use to describe coronary heart disease, which is preventable, controllable and reversible.

Heart disease is caused by plaque build up on the interior artery walls and leads to a narrowing of those arteries and decreased blood flow to the heart. Often there are symptoms like chest, shoulder, neck or back pain that can signal a blockage, but in many cases heart disease is not diagnosed... Read more of "Treating Heart Disease"»
30 Tips for 30 Days
Our very best advice for you!

You've taken a giant step towards gaining the upper hand by focusing on managing and even reversing your heart disease.
Shared by First30Days
More»
If you have questions about this change, you're in the right place. Our editors, experts, and community of change optimists have answers!

This is a very joyful day of my life because of the help DOCTOR...
Shared by emily54321
More»
News
The latest news on this change — carefully culled from the world wide web by our change agents. They do the surfing, so you don't have to!
Those Amish get the all the breaks, even from heart disease!
More»
Does the secret to heart disease lie in your mouth?
More»