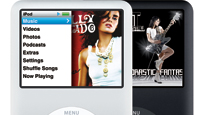 Mastering the iPod
| | |
| --- | --- |
| Get our very best tips about Mastering the iPod daily for 30 days. It's easy to sign up and will help you with this change. | |
Feeding Your iPod Addiction
Initially, it was all about the music for Kristine Hatfield. "I liked the thought of having so much music in a small container, especially for exercising," she says.

As the vice president for enrollment and student management at Our Lady of Holy Cross College in New Orleans, Kristine soon discovered that her iPod had an even deeper significance in her life: It helped center her spiritually and calm her daily stresses and anxieties. "I love the free podcasts," she says. "I can download meditations and prayer readings on a weekly or daily basis."

If you doubt that... Read more of "Feeding Your iPod Addiction"»
30 Tips for 30 Days
Our very best advice for you!

Congratulations! With your iPod in hand, you have a virtual wilderness to discover.
Shared by First30Days
More»
If you have questions about this change, you're in the right place. Our editors, experts, and community of change optimists have answers!
The next time you fire up iTunes and you're not quite sure...
Shared by joepierce
More»
Downloading apps for your iPhone or iPod Touch is fun and...
Shared by Martskin
More»
News
The latest news on this change — carefully culled from the world wide web by our change agents. They do the surfing, so you don't have to!
This could be our favorite iPod app.
More»
Get yer red hot iPod rumors here.
More»