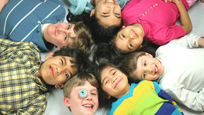 Stepparenting
| | |
| --- | --- |
| Get our very best tips about Stepparenting daily for 30 days. It's easy to sign up and will help you with this change. | |
Stepping Up to the Plate
In the story of Cinderella, the second wife is none other than the wicked stepmother who spends her days plotting against the innocent sweet-natured heroine. In movies, stepdads are rarely portrayed in a positive light, and are often shown to be abusive and distant. Although you may not come anywhere close to these characters when you think about your impending role as a stepparent, do you fear that this is how your stepchild will think of you?

The reality of being a stepparent these days is far from how it's portrayed in fiction. Though accurate numbers are hard to come... Read more of "Stepping Up to the Plate"»
30 Tips for 30 Days
Our very best advice for you!

It may be daunting to think of being a "parent" to children you didn't conceive, but once you get in the swing of things you'll find it's one of the most rewarding changes you will experience in your life.
Shared by First30Days
More»
If you have questions about this change, you're in the right place. Our editors, experts, and community of change optimists have answers!

Hi my name is Kate Clancy, I'm 24 years old. My ex boyfriend he broke up with me 5 weeks...
I AM AMONG THE MANY THAT SEEK THE HELP OF DR. WAKINA, WHO...
Shared by morch606
More»

Today has being the most happiest day of my life after 1 year...
Shared by HarrisNtasha
More»
News
The latest news on this change — carefully culled from the world wide web by our change agents. They do the surfing, so you don't have to!
In 2001, a high school teacher's contract was not renewed...
More»
It's not soccer, it's stepparenting! So why does it feel like...
More»