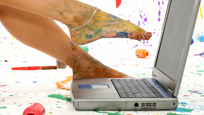 Dating Online
| | |
| --- | --- |
| Get our very best tips about Dating Online daily for 30 days. It's easy to sign up and will help you with this change. | |
Love at First Site
To avoid telling people that he met his present wife Susi online, Noah Manheimer used to get creative and weave together intricate, tongue-in-cheek tales to spare himself the embarrassment. "My favorite story is that I was standing in line at a convenience store late one night, and someone came in to knock off the store," he says. "I was afraid for my life, but Susi dragged me into an aisle and hurled a can of beans at the perpetrator, knocking him out. And she's been my hero ever since."

Although some online daters are still secretive, the stigma... Read more of "Love at First Site"»
30 Tips for 30 Days
Our very best advice for you!

Don't be afraid to move your dating life into cyberspace.
Shared by First30Days
More»
If you have questions about this change, you're in the right place. Our editors, experts, and community of change optimists have answers!

Hey guys, Get your ex back fast with the help of a real and genuine spell caster called...

Today has being the most happiest day of my life after 1 year...
Shared by HarrisNtasha
More»

I want to let the world know about Lord Masuka the Great spell...
Shared by Julie711
More»
News
The latest news on this change — carefully culled from the world wide web by our change agents. They do the surfing, so you don't have to!
Use common sense or you'll lose more than your shirt.
More»
Fulfill your craving for a man (or woman) in uniform.
More»