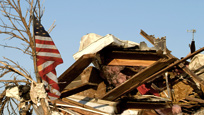 Surviving a Natural Disaster
| | |
| --- | --- |
| Get our very best tips about Surviving a Natural Disaster daily for 30 days. It's easy to sign up and will help you with this change. | |
Weathering the Storm
Since 2004, more than one billion people around the world have lost their homes, businesses, family members or lives to natural disasters. That's one in six. As of this writing, tornadoes recently destroyed entire towns in the Midwest, there's historic Mississippi River flooding, more 1000 wildfires are raging in Northern California and major earthquakes have devastated huge portions of Asia.

Natural disasters can happen anywhere, and they often come out of the blue. But proactive preparedness and a clearheaded response will help mitigate the negative effects... Read more of "Weathering the Storm"»
30 Tips for 30 Days
Our very best advice for you!

This is an important new beginning, whether you're preparing or cleaning up after a natural disaster.
Shared by First30Days
More»
If you have questions about this change, you're in the right place. Our editors, experts, and community of change optimists have answers!

How My Marriage Was Restored Email: eboehispellcaster@yahoo.com My Name is Cindy Diane...

Thank you katie for the correction. Sometimes your typing...
Shared by marah2448
More»

Coleman I do leave in a older neighborhood.
Shared by marah2448
More»
News
The latest news on this change — carefully culled from the world wide web by our change agents. They do the surfing, so you don't have to!
And it's easier to use a door than break through the wall.
More»
It takes brains, not brawn to survive a natural disaster.
More»