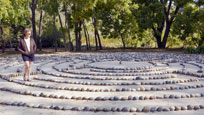 Your Health Diagnosis
| | |
| --- | --- |
| Get our very best tips about Your Health Diagnosis daily for 30 days. It's easy to sign up and will help you with this change. | |
Coping With a Sickness Curveball
All Liz Holzemer wanted to do was start a family. She and her husband, Mark, a former major league baseball pitcher, had been trying to conceive without success. But fertility troubles were only part of the picture; she was suffering from excruciating migraines and partial seizures. On February 3, 2000, she finally pinpointed the problem.

"Finally, I asked to have an MRI," explains Liz, from Highlands Ranch, CO. "The image revealed that I had a massive brain tumor." Though the tumor was benign, it was affecting her bodily functions and her doctors feared... Read more of "Coping With a Sickness Curveball"»
30 Tips for 30 Days
Our very best advice for you!

Don't run away from your health diagnosis.
Shared by First30Days
More»
If you have questions about this change, you're in the right place. Our editors, experts, and community of change optimists have answers!

GREETINGS everyone out there.. My name is Sarah Gomez FROM...
Shared by spellsolution
More»
As a suffer of migraines since the age of seven (I am 24...
Shared by carolineshannon
More»
News
The latest news on this change — carefully culled from the world wide web by our change agents. They do the surfing, so you don't have to!
Nobody puts Swayze in a corner, not even pancreatic cancer.
More»
Hangover cures even Blitzen would approve of.
More»