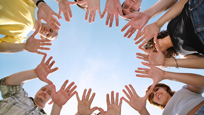 Improving Relationships
| | |
| --- | --- |
| Get our very best tips about Improving Relationships daily for 30 days. It's easy to sign up and will help you with this change. | |
Finding Relationship Help
Perhaps this is the third time this week you've butted heads with your boss about how to load paper in the photocopier. Or maybe the thought of spending Sunday dinner at your parents' place—and answering their pointed questions about your personal life—is sending you into paroxysms.

Of course, there's no such thing as the perfect relationship: Even happy and healthy relationships contain some degree of struggle. But we can strive to improve the troubled relationships in our own lives—the key is to embrace the challenge and make an honest... Read more of "Finding Relationship Help"»
30 Tips for 30 Days
Our very best advice for you!

You've chosen to have happier, healthier relationships! Let's get started.
Shared by First30Days
More»
If you have questions about this change, you're in the right place. Our editors, experts, and community of change optimists have answers!

Today has being the most happiest day of my life after 1 year...
Shared by HarrisNtasha
More»

HERE COMES THE MASTER OF DEATH SPELLS. THIS GREAT DEATH SPELL...
Shared by grtdrr
More»
News
The latest news on this change — carefully culled from the world wide web by our change agents. They do the surfing, so you don't have to!
One author shares her experience on getting past infidelity.
More»