News
The latest news on this change — carefully culled from the world wide web by our change agents. They do the surfing, so you don't have to!
It Takes Two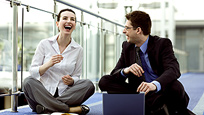 When you've got a Butch Cassidy to your Sundance Kid or a Tango to your Cash, starting a business can be made much sweeter.

"When you're the boss, it can be tempting to skip work and spend the day in your pajamas. It's easier to get dressed and go to the office when you know someone is waiting for you." Those words of wisdom were buried in a recent Washington Post profile of entrepreneurs who are setting up new businesses despite the frigid economic forecast.

Two of the subjects, Julie Gallagher and Kathryn Park, first met as co-workers at a large public relations firm where their working styles initially clashed. However, when the pair realized that Park's conservative style was a good match for Gallagher's creativity, they branched off and started their own successful company.

There are plenty of benefits to having a partner, including the fact that it gives you accountability. You will also have someone to share both financial burdens and every day responsibilities. However, finding a compatible business partner can be as much of a challenge as finding a new romance. Like Gallagher and Park, you want to make sure your personalities complement each other.
If you're thinking about starting a new business, are you going to go at it alone, or are you thinking about finding a right hand man/woman?
Posted: 10/27/08