Feel Full, Lose Weight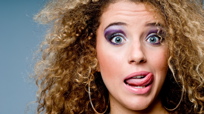 If you want to lose weight, lower your cholesterol and prevent dramatic blood-sugar swings, try eating more fiber. According to one study, the addition of 14 grams of fiber per day correlated with a five-pound drop over four months.

Experts recommend the following minimum daily fiber intake (the average American consumes 10 grams or less each day):

Women Under 50 – 25 grams
Women Over 50 – 21 grams
Men Under 50 – 38 grams
Men Over 50 – 30 grams

Just be sure not to add too much too quickly. You'll avoid bloating and discomfort if you start slowly and give your system time to adjust. Good choices for high-fiber foods include legumes, such as lentils, dry beans and peas, fruits and vegetables, brown rice and whole grains, such as wheat, oats and barley.

To receive 30 FREE daily tips on Losing Weight, go here and click the Yes button.
Please feel free to forward this message to any friends you think will need it.
Posted: 1/25/10