Three Guaranteed Ways to Improve Your Relationship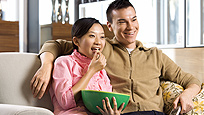 Wish you had more intimacy and connection in your relationship? Relationship experts, Kathlyn and Gay Hendricks, co-authors of Conscious Loving, Spirit-Centered Relationships, offer these suggestions to help rebirth and nurture the bond between you:

1. Every day, spend some time being together without doing anything—for example, Gay and Kathlyn meditate. Focus on experiencing an essence-to-essence connection and fully appreciating each other.

2. Say positive things to one other on a daily basis, such as, I really like the colors you're wearing today. One piece of marital research found that thriving relationships have a 5:1 ratio of positive to negative comments. These "drops of lubricant on the relationship," as Gay calls them, are what really make the difference.

3. Set up "business" meetings a couple of times a week, so that discussions about bills, dry cleaning, home repair decisions and so on don't clutter up your lives.

Read more expert tips and advice on improving your relationships here.
Posted: 11/14/09