Signs from Above and Beyond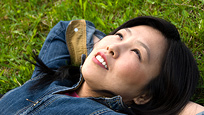 You're strolling through the mall and literally run into the person you were just talking about moments before. He lives four states away. On an airplane, the woman next to you mentions an available position at her company that just happens to be in your field.

Coincidences or signs? No one knows for sure, but think of it this way: What if they really are signs or directions, and you don't pay attention? Will you miss an important turn on the road of life?

Keep your "antennae" up and tuned into this language of life, especially during times of change. You don't necessarily have to follow external signs, but do be open to seeing them. You never know when one might give you the answer you've been looking for.

For more on how tapping into your spiritual side can help you through change, read Ariane's book, The First 30 Days: Your Guide to Any Life Change.
Posted: 12/24/08