Getting Through Seasonal Malaise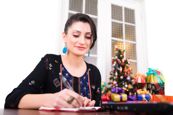 Only eight more gifts to buy, all of which need to be wrapped. Not to mention the seven rugs to vacuum, six rooms to straighten, five… parties… left…, four pies to fill, three french wines, two of them Merlots…

… and a partridge in a pear treeee!

Making up songs again? When you find yourself in the throes of holiday madness, stop. Grab a piece of paper and a writing implement—pen, crayon, eyeliner, whatever—sit down and make a list of 5 things to be happy about right now.

I'm almost done shopping.
I'm almost done wrapping.
I'm almost done cleaning.
I'm almost done hosting.
I'm almost done, period.

Hmm. Maybe you can think a bit more broadly. Are you happy for your health? Your job? Keep your list handy and review it year-round whenever you need a pick me up, expanding or amending it as needed. You might even want to make this exercise a holiday tradition in your house, to encourage gratitude and giving during a time that can too easily focus on getting. Come to think of it, it's an exercise you can do each day if you want! Acknowledging the things that make you happy can definitely lead to a happier life overall.
Posted: 12/23/08