Shhh. Listen.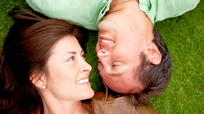 Hmm? What's that? Sorry, I couldn't hear you over the thoughts in my own head.
If you're anything like us, you listen with one ear...the other is reserved for your cell phone, conversations at adjacent tables or the mention of your own name by someone else in the room. But what if we really focused on the delicate art of listening? Not just letting someone talk to us, but really focusing on what they have to say?
Sounds (ha!) intense, but like anything worth doing, you can practice it a little everyday until it becomes second nature. Having someone around to listen is a gift that can make change easier, decimate lonliness and bring about greater inner peace.

You can be a witness to the momentous rebirth of this long forgotten activity (texting, IM and email have replaced most conversations, you know.) Storycorps, the nation's largest oral history project (Fridays on NPR's Morning Edition), has designated Friday, November 28th as a National Day of Listening. Ask the people around you about their lives. By listening to their stories, you will be telling them that they matter and they won't ever be forgotten. Not sure how to get started on your incredible listening journey? Get the do-it-yourself guide and prepare to be touched and amazed by the people you only thought you knew. And it needn't stop with the day. Listening is something you can feel free to do at any time. And of course, even though we can't talk to you in person, we're listening too. Send us your stories today.
Posted: 11/28/08