Avoiding Black Friday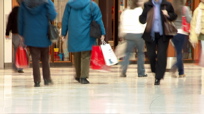 Pilgrims and Native Americans wouldn't recognize our Thanksgiving, which for many is just an excuse to consume huge quantities of high-calorie foods. Enter marketing executives, and today marks the start of the holiday shopping season.

Speaking of which, better scarf down that apple-pecan torte and get to bed… tomorrow is Black Friday.

Tomorrow's early morning deals were created because when people feel anxious, they buy impulsively. And what could be more anxiety-producing than hoards of sleep-deprived shoppers jockeying for a limited supply of HDTVs and other deals too good to pass up?

Do yourself a favor and sleep in. Even if you pay more during regular store hours, shopping when you're calm will save you money overall. Curl up in your favorite chair with some turkey salad and compile a carefully thought-out list of upcoming purchases. Watch for post-holiday sales and when you do go out and shop, stick to only those items.

Because every frugal shopper knows that the best deals are found all the year through, not just when marketing says you'll find them.
Posted: 11/27/08